By Anita Gallagher
Training Lead at HIPGive
Every generation has a golden rule of fundraising, but one that you should always take seriously is "always say thank you". At HIPGive, a team member shared an old adage that fundraisers should say thank you and follow up on donors up to seven times in different ways. That might be over-the-top, but you can be sure that one of the most frustrating experiences for donors is being asked to give again before they've been thanked and before they've been filled in on the impact their first contribution has generated.
What's the takeaway? If you want to make sure that there's a crowd waiting for you at your next crowdfunding campaign, then it's up to you to stay in touch with your HIPGivers and cultivate your relationship.
Here's a simple three-part donor cultivation plan that you can put into action during and after your crowdfunding campaign.
First, the uplifting "thank you"
In addition to the automatic thank you email that all HIPGivers receive (and which you added to when you set up your project), we recommend you send all givers a sincere, authentic and personalized thank you message shortly after they give. You can access the list of HIPGivers in the Transactions section of the dashboard.  
If you're going to send an email, remember: the more personalized the better. Include the person's name, the amount they gave and don't just state the facts. Instead, communicate the emotions that you, the team, and/or the project participants feel when receiving this contribution.
Want to go a step further?  Why not create a handwritten note to scan and send or ask one of the project participants to record a short thank you video. 
Even better, you could pick up the phone and thank HIPGivers personally. In this day and age, there's nothing more valuable today than giving people your full attention.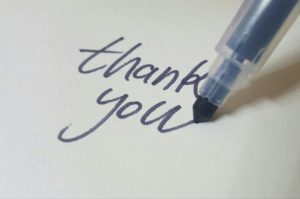 Then, celebrate the campaign's results
Your supporters want to help, this is why they funded your campaign in the first place. When the campaign is over, share your results with them collectively. Your post or graphic could include the amount raised, the number of people that contributed and, most importantly, what you will be able to achieve with the funds raised.If you want to find a more original way to communicate this information, ask one of your project participants to share the results in his or her own words.
Even if you didn't reach your crowdfunding goal, don't be shy. Focus on the positive aspects and remember that showing impact now will help gain people's trust for future campaigns.
Later on, share the impact 
It's tempting to close the donor appreciation cycle after the campaign has wound down. It may be that you've imported your list of HIPGivers into your own database and are already sending them other communications. But there's one more thing left to do: once your project is underway, share the overall impact with those that helped make it happen. You could:
Send a brief and upbeat email saying, "Thanks to this campaign, we are providing training for 30 community leaders" with a link to their photos and testimonies. 

Share a  behind-the-scenes sneak peek on what's happening in the project

Create a video message from a project participant or a storytelling series on your website.
A few months down the line from their original contribution, receiving this update will be a pleasant surprise for donors. You'll reinforce the positive image they have of your organisation and show that you are a trustworthy partner for creating positive change in the world. Which is exactly the frame-of-mind you want, should you ever invite them to take part in another crowdfunding campaign in the future.