Does crowdfunding work in Colombia? It was one of the questions the team at "Comparte Por Una Vida Colombia" asked themselves before launching their first crowdfunding campaign. Fortunately, the answer is yes! With two campaigns each surpassing $5,000 USD under their belt, Leïla Peltier shares the team's tips on how to reach your goal again and again.
"Crowdfunding is different from other other ways of raising money. It's about talking to people, so we have to adjust our language." With this in mind, the team's first step when planning a campaign is always to identify the target audience. In most cases they have preferred not to set their sights on attracting a huge number of people, but rather to focus on the people who are most likely to give. "This way we use less energy, but we still achieve the goal."
Subsequently, they structure the project, or as Leïla explains it, "we build a narrative that unites the entire team and creates a common language for the campaign." This process consists of three steps:
First, we have to really understand the problem in order to explain it to others. For example, by saying "1 out of every 3 girls doesn't go to school during her period" is a really clear way of expressing the problem as experienced by the people we're helping. 

Then, we have to offer a solution. Of course, the most immediate solution is for the person to make a contribution! But we need something else. That's why for the "Dignity for Migrant Girls" campaign, we focussed on the concept of the kit that we give to each girl. 

Finally, we have to link the solution with a long-term impact. In this case, the overall impact is that hundreds of girls can continue their education uninterrupted with all of the benefits that generates.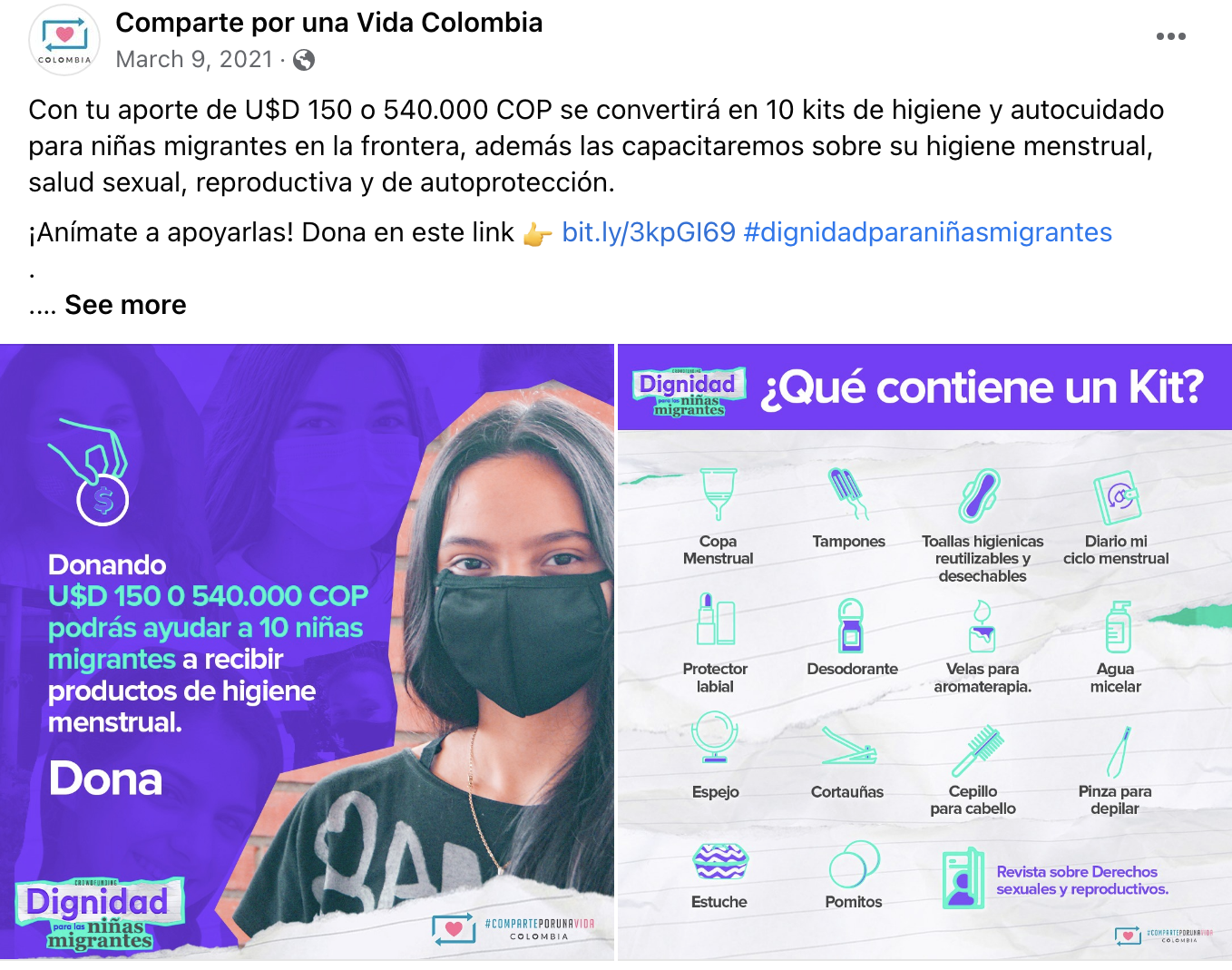 With this strong and structured project as a foundation, it's easy to promote the campaign. Something that characterizes the Comparte por Una Vida Colombia campaigns is the visual impact of the materials; they excel at aligning striking colors with powerful content. In addition, they don't start the campaign when HIPGive does, but rather they launch it on their own media a week before. Why? To inspire curiosity, to create expectations and to make people eager to find out more about how they can be part of the solution to the problem people are facing.
"Another important element to consider when promoting the campaign," says Leïla, "is knowing the function of each channel. The website is not very helpful but it does communicate that we are in a special moment. Then, we shift to social media but we're careful to use different messages and content on each platform. That's important because people are not looking for the same thing when they sign on to LinkedIn as when they visit Instagram, for example."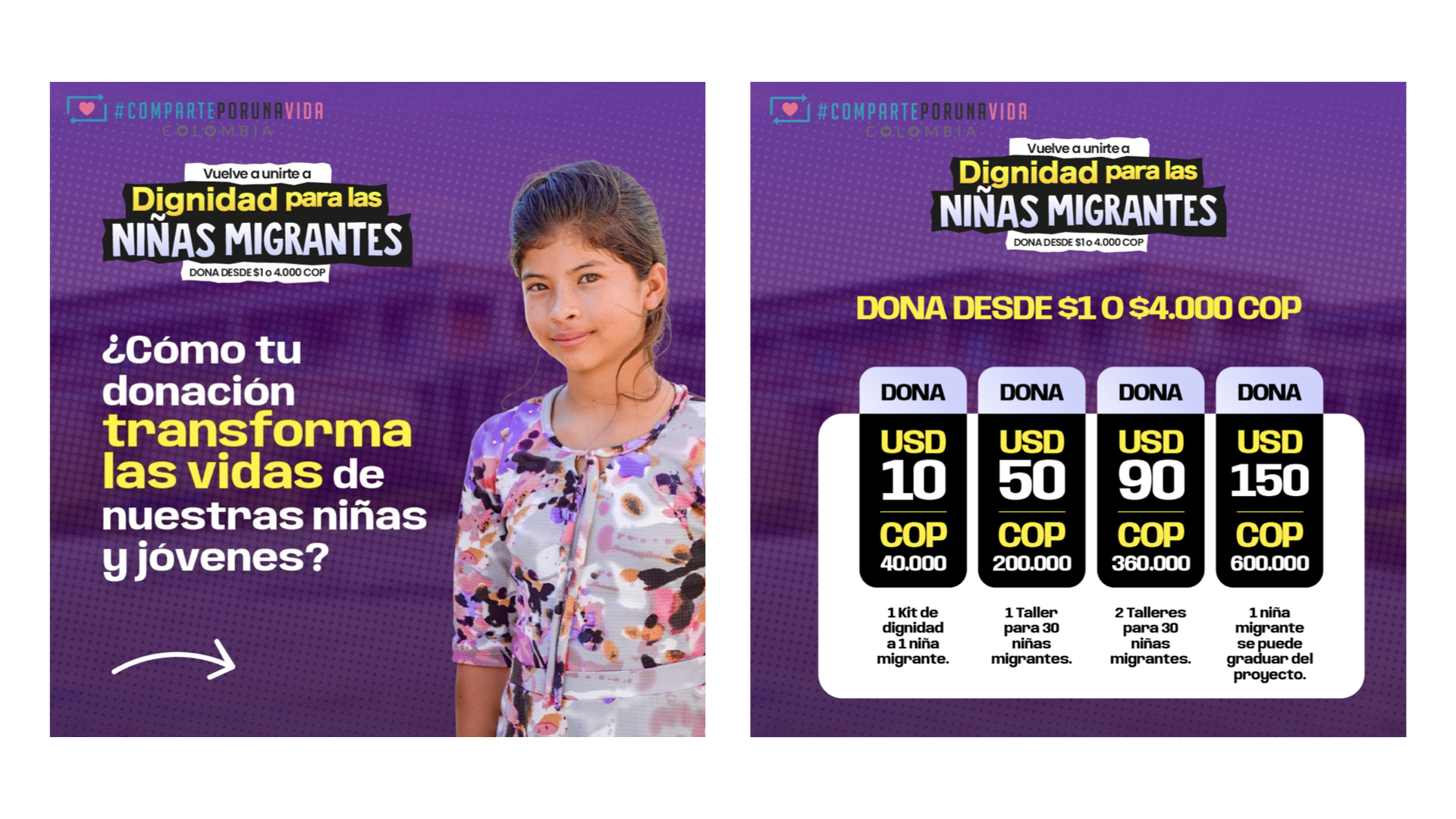 All of the above are vital steps in enabling the person-to-person promotion strategy. With the content already created, it is easier for the team to spread the word across their own networks. And by that we mean the whole team! Even the founders of the organization participate, writing personally to all their contacts. They have noticed that this personal contact works best when the first communication doesn't focus on inviting people to donate directly, but rather invites them to collaborate, share and publicize. This starts a conversation and increases participation in many ways.
Finally, it's important to say thank you, which for Leïla is part of a broader stage of cultivating donor loyalty. In addition to HIPGive's automatic thank you message, the team sends out a newsletter at the end of each week during the campaign to inform people of progress. Later on, they also keep in touch with their HIPGivers from this and previous campaigns so that those people continue to feel part of the organization's work and to keep that personal connection alive.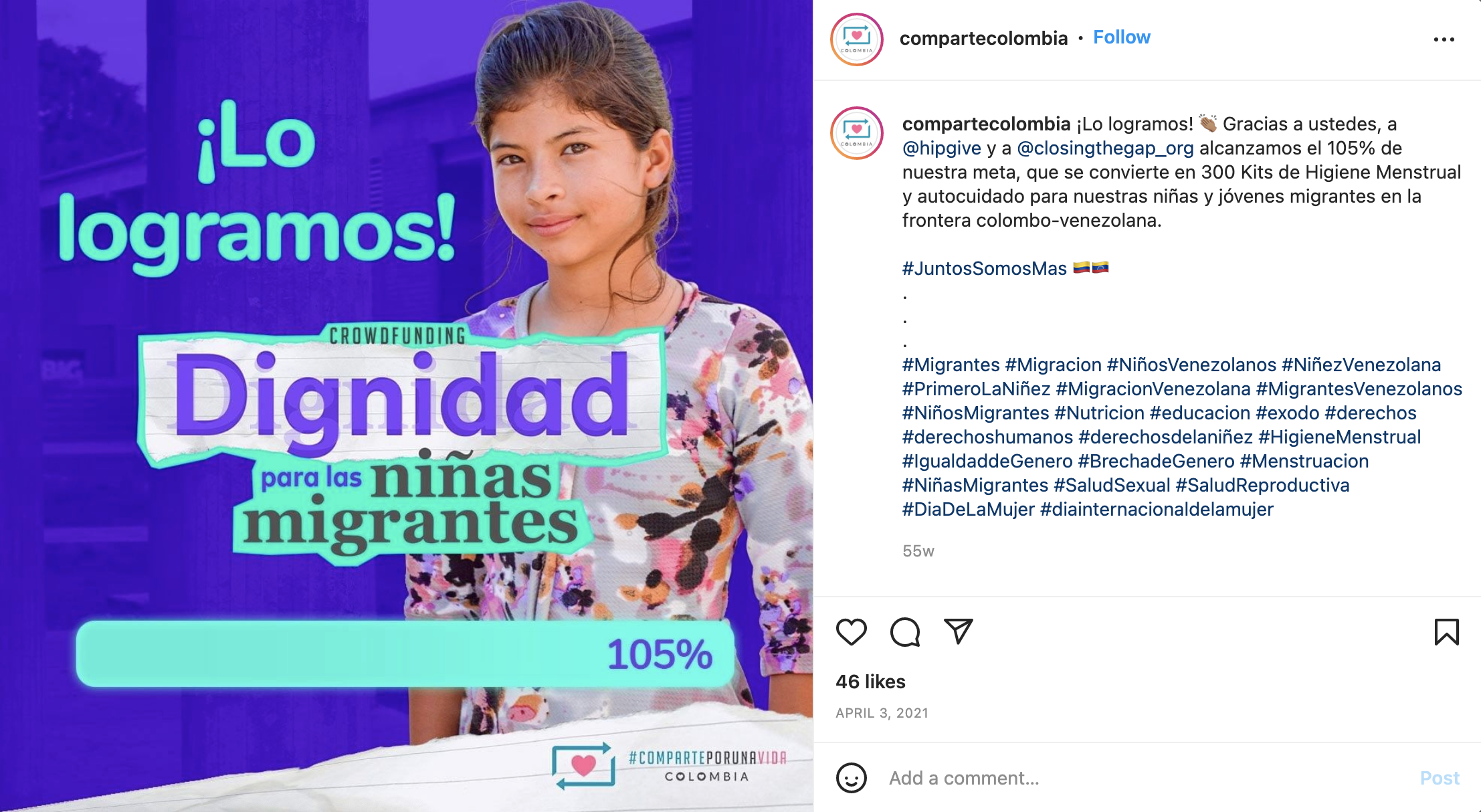 It's clear that raising more than $5,000 USD in a crowdfunding campaign doesn't happen just by magic, and you may not even succeed on the first try. But if the experience of Comparte por Una Vida Colombia shows us anything, it is that successful campaigns are based on a well-structured project and share a narrative that inspires not only your donors, but also your entire team. Are you ready to follow their example?
Thanks to Leïla Peltier, Project Assistant at Comparte Por Una Vida Colombia. Learn more about their work https://cpuvcolombia.org/ or view their crowdfunding project here.