As more and more organizations switch to mainstream social media (Facebook, Twitter) as their primary communications channel for online fundraising, many marketing experts warn not to overlook the role of email as a more reliable, personalized way to engage donors.
However, when Mexican nonprofit Ayúdame a Sonreir ante el Cáncer (ASAC) (Help me smile in the face of cancer) needed extra funds to brighten up the walls of children's cancer wards, they ignored both options and ran their campaign almost entirely on WhatsApp, a popular messaging app for smartphones. The result? They raised nearly $4,000 from 64 donors with donations ranging from just $6 to $300.
Perhaps it's not surprising that the messaging platform proved so effective, given that 84% of Mexican smartphone owners are regular WhatsApp users, according to a report by MAVAM. However, the way the ASAC team crafted their messages enabled them to increase overall confidence in the campaign and communicate the urgency of donating at certain times to access matching funds.
Your potential donors may not be native Whats-Appers, but the tactics that allowed ASAC to exceed their crowdfunding target via social media messaging and HIPGive can easily be adapted to other social messaging platforms to help you reach your target audience. Read more about what worked best in our short Q&A session with Lisette García, the campaign coordinator and President of ASAC.
Why did you choose WhatsApp over other media?
We're a small organization operated entirely by volunteers and although we have about 2,000 people on our email list, we're really like a big family. It made more sense to use WhatsApp to enable personal, one-to-one communications and show that the request to donate was coming from a trusted source. It also helped that the HIPGive page is optimized for mobile giving, so it's easy for people to click through and donate right from their cell phones.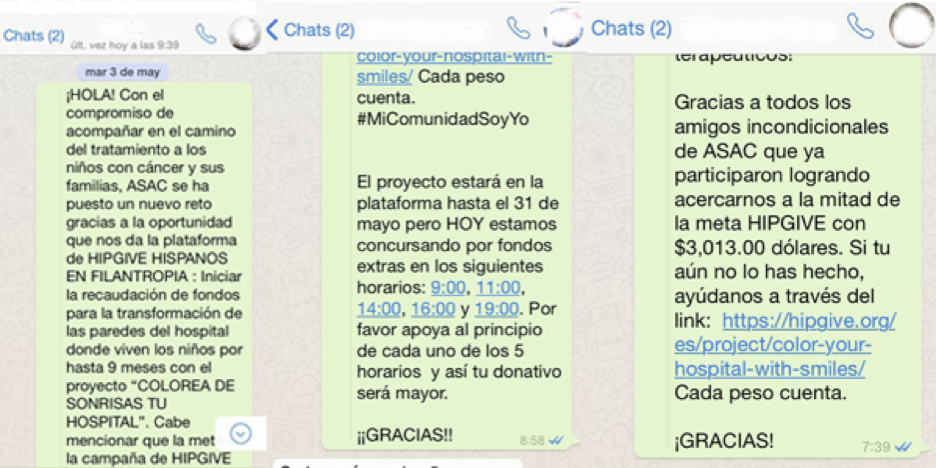 How did you organize your communications?
We chose a catchy title, "Color your hospital with smiles," and sent messages to small groups in the days leading up to the matching funds campaign and repeatedly during the day itself. I sent out most but lots of key volunteers were also relaying messages to their own groups in their own words.
A typical message read: "Hi!  As part of our commitment to helping children with cancer, ASAC has undertaken a new challenge: transform the surroundings where children with cancer spend most of their time. Our goal is to raise $8,000. Help us achieve a great start to the campaign, give your support in this link."
We followed this up with reminders about matching funds: "The campaign will run until 31st May, but TODAY you can help us access extra funding if you give in the following times: 2 pm, 5 pm" or  "We're reaching the end of the opportunities to have donations matched, thank you for coloring their hospital with smiles… donate in this link".
Why do you think the WhatsApp messages worked?
They didn't work immediately – we received a lot of replies saying, "I don't understand, can you explain?!?"  But we took the time to respond to each and every one.  Our philosophy is that even if we can't answer straight away, the donor should always receive an answer that same day.  
We found it easier to communicate the urgency of giving at certain times via instant messaging, rather than via emails which people often check only once or twice a day. There was a real buzz and excitement about creating the sense of a "rush."   
Above all, I think the crucial thing was the warmth of our language – we connected personally with each potential donor, and in group conversations, there was a sense of trust and teamwork. Everyone was rallied by the positive responses of others. That would be hard to replicate in another medium.
Do you have any last tips for other organizations crowdfunding on HIPGive?
WhatsApp was fantastic for us but we also used email to build donor trust with information about when the funds were received and how they were used. You can never thank donors enough, no matter how much or how little they give.
Ayúdame a Sonreír ante el Cáncer, A.C. (ASAC) is a non-profit organization that seeks to create alternatives for the emotional well-being of children with cancer. Learn more about their projects here.