By Anita Gallagher
Training Lead at HIPGive
What drives a successful crowdfunding campaign? Contrary to popular belief, it's not just about the worthiness of the cause itself or an inspirational narrative, although these are important. Rather, the bottom line is that crowdfunding is also a numbers game: the more people you can reach and the more people who have a personal link to your cause or community, the more likely you are to raise the funds you need.
This is both good and bad news for crowdfunders. On one hand, it means that it's always worthwhile investing time and effort in promoting peer-to-peer communication. Even if you don't have the communications' reach to engage with a large audience directly (quantity), by encouraging people close to you to share the campaign you increase the authenticity of the ask and access wider personal networks (quality). 
On the other hand, it means that crowdfunding is not a quick fix. If you want to consistently grow your results, you need to grow the size of your audience, and that takes time. How much time depends on you and your communications team. Indeed, the nonprofits that achieve outstanding results when it comes to individual giving are those that work hard all year round to engage people on social media, boost signups to the email list and raise awareness of the impact that individual donations make to advancing the mission. Then, when they're ready to launch a high-profile fundraising campaign, they're able to communicate across multiple channels with a growing community who are primed to respond by giving and sharing. 
If this sounds like something you want to achieve, here are some practical steps to start growing your audience. Just remember, it takes time so start now and stick with it. 
Develop a unique voice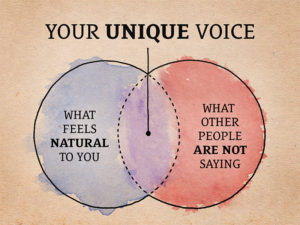 Wherever and whenever your organization communicates, your content should transmit a strong value proposition so that everyone understands what you do and why it's important. However, if you want to really grab the five-second attention span of your followers, then you also need to stand out from the crowd. We love this graphic by Sean Wes which sums up how to find your own unique approach to creating content.
Choose where and with whom to communicate 
Have you heard the Mexican saying "el que abarca mucho aprieta poco?" It loosely translates as "Jack of all trades, master of none."  Rather than wearing yourself down trying to master Facebook, Twitter, Instagram, TikTok, LinkedIn and more, focus your efforts: strengthen your email outreach and choose one social media platform where most of your target audience convenes.
Own your audience: focus on sign ups
Free to use social media platforms have revolutionized our communications, but we are increasingly aware of the price we pay in terms of access to data and harmful practices. Moreover, as Spencer Brooks highlights in the Stanford Social Innovation Review, "Social media is not an owned audience. If social media is a crucial part of a nonprofit's digital strategy, they are at the mercy of social media companies' decisions and algorithms." The solution? Use your social media channels to encourage people to sign up for email, as well as other direct communication channels such as mobile apps, forums or SMS. 
Build a sense of community 
Don't fall into the trap of using social media as a one-way space for publishing content, as if it were an old style radio or tv broadcasting platform. Instead, use every opportunity to engage in two-way and multi-way conversations, responding to "likes" with personal messages, acknowledging comments, and posting questions and queries. Creating a sense of community  around shared interests and values is what makes your audience yours and will encourage them to give when you're ready to make the ask. 
Growing an audience is hard: you have to understand your target groups and work hard to produce the right content in the right place at the right time. Most importantly, it won't happen overnight. But your hard work will pay off when, in your next campaign, you find your appeal doesn't fall on deaf ears but is fueled by the re-sends, likes, and shares of your newfound community.